I like to say, I started my career at age three, singing what ever came into my head. As a youngster, I was a mediocre flute and piano player, as a teen, a darn good guitar player, as a ski bum, I played with various bands. But really, my career began when a friend loaned me a harp for a summer.

Whether playing solo, in duo or collaboration with other artists, the harp has given me a long, lovely list of adventures and opportunities. I love playing harp, but I know the music is most honest when the listener forgets about the harp and just hears great music. ___________ Margot Krimmel,  Boulder, CO 2020 
"Stunning." Ryan Warner Colorado Public Radio
When collaborating with fellow musicians, dancers, film makers, story tellers and visual artists, musical compositions take on depth and meaning.
Movie sound tracks include the award-winning documentary Dying Wish: A Dying Doctor's Decision to Stop Eating and Drinking. Krimmel's original music is featured about 30 seconds into this short trailer. Ciick here to listen.
 Murmuration Dance Project click here to watch.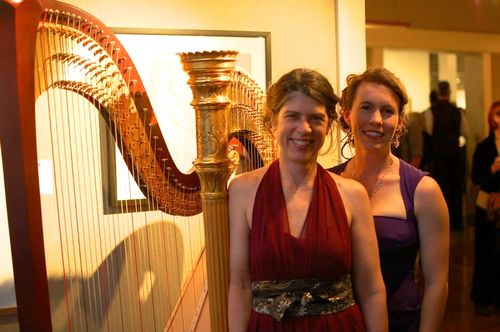 Margot Krimmel's harp music has graced over a hundred weddings in Denver, Boulder and nearly every mountain town (and mountain top) in Colorado. She spent several years as the full time harpist at the Sonnenalp Resort in Vail, CO. Equally at home on her Lyon and Healy pedal harp or her Celtic Folk harp, Krimmel's extensive repertoire includes Classical, popular and Celtic selections.
Solo, harp duo, flute and harp, violin/ fiddle and harp.
Contact for bookings. Reasonable rates.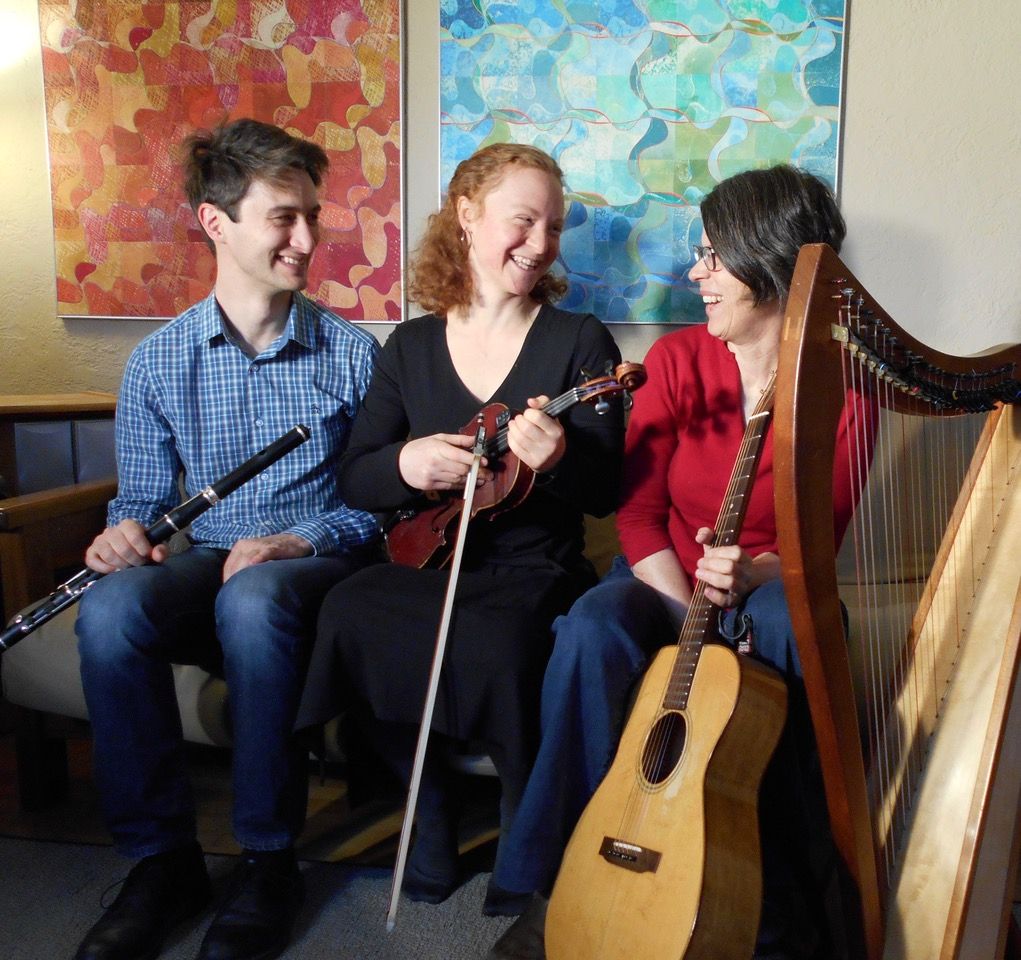 Traditional Irish Music - Jigs, reels, polkas that get your feet taping, waltzes that sway like ocean waves, and slow aires that transport.
I play with 'Mice in the Mug'  a collective of musicians who love playing together. We are expandable, from a couple of instruments to a larger ensemble. Get in touch and we'll find the right combination for your event.
Gadbaw & Krimmel Celtic Duo
Colorado-based Celtic duo Beth Gadbaw and Margot Krimmel have performed together throughout the U.S., the U.K, and Ireland. They have recorded 3 CDs, White Birds, Icy December and Live at the Black Rose Acoustic Society. Icy December was featured on Colorado Public Radio and described by The Folk Harp Journal as "a wonderful compilation…that will make you feel nostalgic and warm" and by British folk magazine What's Afoot as "an absolute joy to listen to." All-Ireland harp champion Sylvia Woods said, "This is my favorite harp and vocal CD." In 2014 they received a Boulder County Artist-In-Residence award.

"Musical treatment…combined with solid harmonies…that veer from the beaten path and hint at ancient Irish roots." -Westword

"Introspective moods… spirited cadences… joyous inflection with just the right blend of youth and maturity."- Off-Center Views

"Lush harmonies, spellbinding rhythms, with lithe interplay between harp and percussion."- The Broomfield Enterprise

"Stunning."- Colorado Public Radio