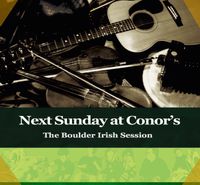 So excited about the new session CD, Next Sunday at Conor's. It's been fun recording with everyone,
mixing is done, CD is pressed. All is set for a great time on Sunday eve, Nov 15. It'll be a regular session but with a set list (the tracks from the new CD).
Players- please come and play on all the CD tunes with us.
Fans-  come early and get a table close in and help us celebrate.
No cover, CDs will be available for purchase ($15.00) 7:30pm Conor O'Neill's in Boulder on 13th street, just south of the Pearl St Mall.